Hello Stylish Ones!
In order to keep your style fresh, modern and current, I always recommend bringing in a minimum of 5 new items into your wardrobe each season.
For most of us, 5 items isn't hard to muster, and depending on the trends at hand, it's more like 5+5+5….
Here is the reasoning behind this magical number, and my 5 picks for S/S 2012!
1. Pick something Bright
Color is a massive trend this spring, and it's not going away soon. Be it a tangerine clutch, kelly green wedges or a bold blue blouse, this is a piece that will add instant panache to your look. 

Precis Petite bag, $110, www.Debenhams.com
2. Pick something Floral
This Spring is coming up roses, and daffodils, camellias and orchids! Floral prints abound in great number, there is definitely something for everybody. Nobody is doing these prints better than Ted Baker,  where they have some of the most scrumptious, lovely florals a Stylish One could ever lay eyes on.

Ted Baker shorts, $155, us.ASOS.com
3. Update your Denim
Long gone are the days of light or dark denim, now it's about color, prints, and finishes! Get yourself a new pair of jeans, stat, and update your mood as well as your style!

Moto Neon Stripe Leigh Jean, $80, us.topshop.com
4. Buy at least one new Shoe
Why a shoe, you ask? It's black or white, shoes update a look or they date a look. They elevate a look or they kill a look. Don't ever let your shoes become raggedy or dated, and make sure to add at least one new pair each season to keep current.
Rebecca Minkoff Baha, $165, Piperlime.gap.com
5. Grab yourself a Bib
Bib necklace, natch! Though the statement earring claims it's usurping the necklace for trendy bragging rights, nothing will give instant gorge to your flirty summer dresses or casual T's like a great bib. Cleopatra knew this and now so do you.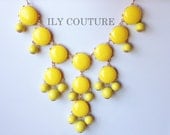 Ily Couture Bib Necklace, $49, Etsy.com
One last note of tres importance: If you see yourself with classic style and you don't want to seem trendy, I encourage you to add 5 new items each season anyhow. Here's why:
First and foremost, all the items I mentioned here today are going to be around for a while. Bright colors, florals: When are those items not on trend for Spring? If you don't want to seem 'trendy' then choose your items with a basic, simple, classic cut. That way, it's sure to last in your repertoire for many years!