Hello Stylish Ones! 
Mention swimsuit shopping and 11 out of 10 women will have the same reaction: ugh! 
(No, Giselle, we're not talking to you.) 
From the horrendous lighting (Seriously? Did you want me to buy this or run out of here screaming?), to the oversized photos of 14 year old models in bathing suits that are meant to 'inspire' us, swimsuit shopping is right up there with skydiving and being shot out of a cannon. That's right, I said "and".
So what's a Gorgeous One to do? Listen to my tips on how to swimsuit shop for your body type, natch! Here's how to suit up in style:
First and foremost, put the mute button on any critical voice from your past and look at your body with the eye of an architect, this is a lesson about balance and proportion. 
What are your best assets? You want to pick a suit that plays these up, so you can shine!
Are you more endowed on the top, or bottom? Do you need some help defining your waist?
Once you know where to start we can begin.
Athletic body types have broader shoulders and muscular bottoms and legs but narrow hips.
*Soften your athletic, muscular body with feminine details such as: small prints, ruching, ruffles, and my favorite this season: fringe!
*Pick a padded top if you're looking to add some extra shape and curves at your bust.
*You've worked hard for your great bod so consider going all out with this season's neon colors and tribal prints!

Bottom Endowed body types 
just means that your bottom is larger than your top, which is typical for many women. 
*Pick a top with extra volume in the form of ruffles, crochet, ruching, fringe or other embellishments, and if you desire, silicone or padded inserts.
*A full cut, simple bottom is best, with minimal details and embellishment.
*If you are trying to hide some extra goodness around the top of your thighs, a mini-skirted bottom may be your best friend. Choose one that doesn't have ruffles, it needs to be simple and straightforward, covering just the tops of your thighs.
*Small prints or solid colors are a good choice, remember never to use a large, vibrant print on an area you want to minimize.
Top Endowed body types are proportionately larger on the top than the bottom.
*Balance your bottom half with volumizing details such as ruffles or a flirty pleated mini-skirt bottom. These will add more junk to your trunk, bedonk to your donk, and more licious to your booty. Juvenile? Perhaps, but I couldn't resist.
*The mini-skirted bottom is a great choice if, like me, you have bout de crepe. No this isn't a terminal illness, it's just French for 'pancake butt'.
*Make sure you have the support you need for your bust, then show off your great cleavage with a simple style and no extra fluff.
*Again, small prints or solid colors are a good choice here, you never ever want a loud, large print on any area you want to minimize.
Skinny & Straight body types tend to be, as the name suggests, fairly straight between their bust and hips, and need some definition for their waist.
*Straight (you carry a little extra goodness in your tummy). Choose a tankini top or one piece with inside panels to hold your waist in place. These magical panels work like Spanx to create shape. Also, look for an outer ruched design, these hide any tummy bulge.
*Skinny (you are 13 or just naturally skinny, jealous!)
Here you have the luxury of choosing suits with horizontal stripes to create the illusion of shape, or high waisted boy shorts with a small belt to draw attention to your waistline. Use ruffles and other textured embellishments in the fabric of your suits to add weight to your bust and bum. Or go all out and wear a teeny bikini, you can get away with it!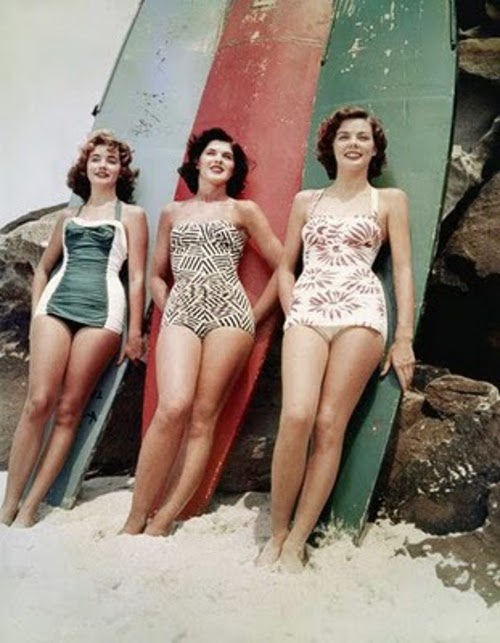 And remember the best thing to wear, at all times, Stylish One, is confidence! 
Below, leave me your questions, or comments, about shopping for a swimsuit.